Junko (淳子) is Dr. Kieda's granddaughter and the female lead of Time Bokan.
Personality
Edit
She is gentle, caring, erudite and resourceful. She misses her grandfather dearly, thus earning a lot of sympathy from the rest of the team. She might seem a little cry-babyish at the first glance, but vows to become stronger under the influence of Tanpei, who she has a crush on.
Biography
Edit
Time Bokan
Edit
Junko travels with Tanpei and Chorobou to try to locate Dr. Kieta by using the Time Bokan to try and find the time period he was lost in with the talking parrot Parrosuke giving them unhelpful hints. While in each time period, She ends up accompanying Tanpei during battle the Time Skeletons in their mechs who are following them to obtain the Dynamonds.
Time Bokan: Royal Revival
Edit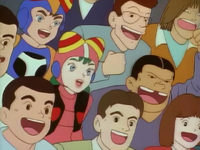 Junko is briefly seen with Tanpei in the audience at the beginning of the first episode.
Her name is derived from Junko Sakurada, a famous Japanese singer.
Ad blocker interference detected!
Wikia is a free-to-use site that makes money from advertising. We have a modified experience for viewers using ad blockers

Wikia is not accessible if you've made further modifications. Remove the custom ad blocker rule(s) and the page will load as expected.