This article lists moments in popular culture such as television, film and video games that make reference or parody the Time Bokan series.
Anime/Manga
Edit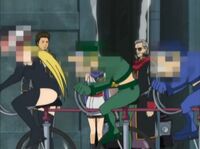 The 28th episode of Gintama has a moment when the Doronbo Gang are seen passing by riding their famous three person bicycle.
Ad blocker interference detected!
Wikia is a free-to-use site that makes money from advertising. We have a modified experience for viewers using ad blockers

Wikia is not accessible if you've made further modifications. Remove the custom ad blocker rule(s) and the page will load as expected.