Marjo is the villainess leader of the Time Skeletons trio in Time Bokan.
Personality
Edit
Her character was written after the "vain villainess" stereotype, and accordingly, she often acts and speaks as if she were the most beautiful and intelligent character in the series. Of the trio, she is the most enthusiastic about capturing the "Dynamond", but ends up doing virtually nothing except bossing her two henchmen around.
Biography
Edit
Time Bokan
Edit
She works with Glocky and Walther in an attempt to capture the Dynamonds but get defeated by Tanpei and Junko on various occasions and ends up naked through some of those misfortunes.
Time Bokan: Royal Revival
Edit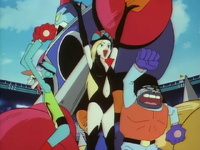 Marjo leads the Time Skeletons in a race against the villain trios from the other Time Bokan series and they get eliminated just as they were about to take out the Doronbo Gang by having their missile deflected back at them.
Yatterman 2008
Edit
Marjo meets up with Doronjo and Atasha and take a bubble bath together just before getting ready to participate in a baseball game with various other henchmen from the other series.
Her name is derived from the Japanese word "魔女" (majo), which means "witch".
Ad blocker interference detected!
Wikia is a free-to-use site that makes money from advertising. We have a modified experience for viewers using ad blockers

Wikia is not accessible if you've made further modifications. Remove the custom ad blocker rule(s) and the page will load as expected.