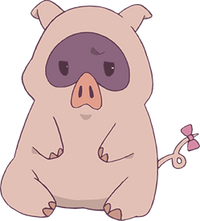 Oda (オダ) is Leopard and Dorothy's pet pig from Yoru no Yatterman. He loves climbing trees. In their country, pigs are treated with reverence, thus he is often referred to as "Oda-sama" (Lord Oda). Because he is so revered and spoiled, he is fat. He serves as a mascot character to the new Doronbo Gang. He is vocied by Chiaki Takahashi.
Ad blocker interference detected!
Wikia is a free-to-use site that makes money from advertising. We have a modified experience for viewers using ad blockers

Wikia is not accessible if you've made further modifications. Remove the custom ad blocker rule(s) and the page will load as expected.