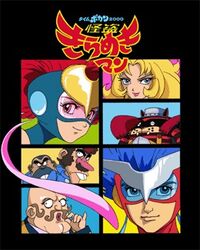 Time Bokan 2000: Kaitou Kiramekiman is the 8th and final TV series in the Time Bokan franchise to feature an original cast. It is 26 episodes and ran from April 5th, 2000 to October 4th, 2000
Ad blocker interference detected!
Wikia is a free-to-use site that makes money from advertising. We have a modified experience for viewers using ad blockers

Wikia is not accessible if you've made further modifications. Remove the custom ad blocker rule(s) and the page will load as expected.