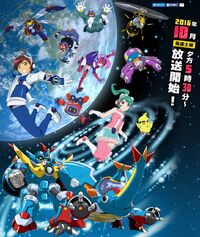 Time Bokan 24 (タイムボカン24) (also written as Time Bokan Twenty Four) is a new series in the Time Bokan franchise that is a collaboration between Tatsunoko Productions and Level-5. It will be directed by Takayuki Inagaki and was announced at AnimeJapan. The project is to celebrate Tatsunoko Productions' 55th anniversary in 2017. The series premiered on October 1, 2016 on NTV and airs every Saturday at 17:30 JST
Tokio, a junior high student living in the present time is suddenly made a member of the 24th century's Space-Time Administration Bureau. Immediately, he learns that the history he has learned in textbooks is wrong, and there is a more interesting version of history where the peerless beauty Cleopatra is actually the comedy duo of Cleo and Patra, Momotaro is more of an ogre than an ogress. Together with his teammate Karen, they use the 24 Bokan Mecha to search for the True History.
The series also has a mecha called the DX Mechabuton which had a toy unveiled at the International Tokyo Toy Show by Takara Tomy.
Main Characters
Edit
Takayuki Inagaki - Director
Yoichi Kato - Series Composition
Akihiro Hino - Creative Producer
Kunio Okawara - Mecha Design
External Links
Edit
Ad blocker interference detected!
Wikia is a free-to-use site that makes money from advertising. We have a modified experience for viewers using ad blockers

Wikia is not accessible if you've made further modifications. Remove the custom ad blocker rule(s) and the page will load as expected.