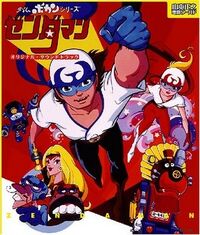 Zendaman is the third series in the Time Bokan franchise. It has 52 episodes and ran from February 3rd, 1979 to January 26th, 1980.
Dr. Monja is a scientist who is curious about the nature of the legendary Elixir of Life which grants the drink eternal lifetimes and forever youth. He built a device called the "Time Tunnel" in order to let a team of youngsters to start a quest down the timeline and various spaces to find an exact answer. A trio of villains, however, is also seemingly after the exact same thing.
Main Characters
Edit
Ad blocker interference detected!
Wikia is a free-to-use site that makes money from advertising. We have a modified experience for viewers using ad blockers

Wikia is not accessible if you've made further modifications. Remove the custom ad blocker rule(s) and the page will load as expected.